GTB LITE
Do you track the operations of your fleet?
GloboTrack Basic LITE (GTB LITE) is a compact and professional device for real-time analysis of position and sensor data of your vehicles, machines and plants. It is ideal for use in the automotive sector. A Europe-wide data communication via
LTE / UMTS / GSM as well as a global positioning system GNSS provide the required data quickly, reliably and without gaps. So you are always well informed about your machine park. Even when the power supply is switched off, no data is lost thanks to the backup battery.
The GTB LITE is the perfect entry into the world of high-quality vehicle fleet data on our portal
Telematics360
.
The GTB LITE offers you cost-effective access to various vehicle movement data and impresses with its flexible range of application and simple installation wherever it is protected from dust and water.
Thanks to the online mode, tracking of your service delivery vehicles is given.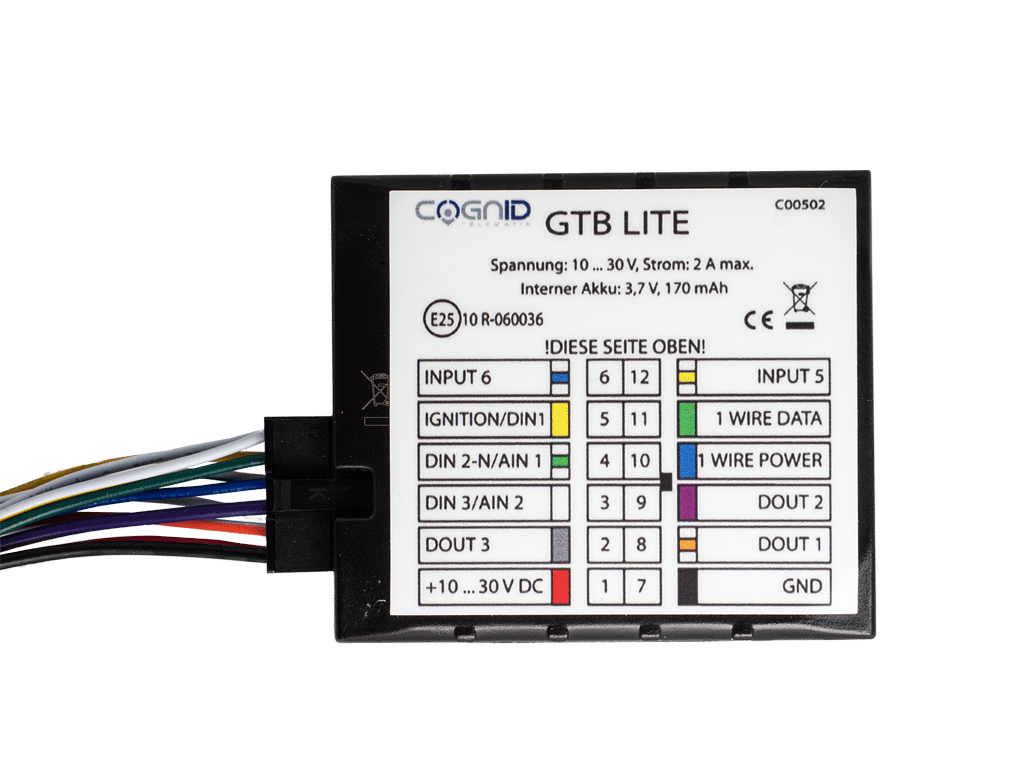 Compact and professxional
ideal for use in the automotive sector.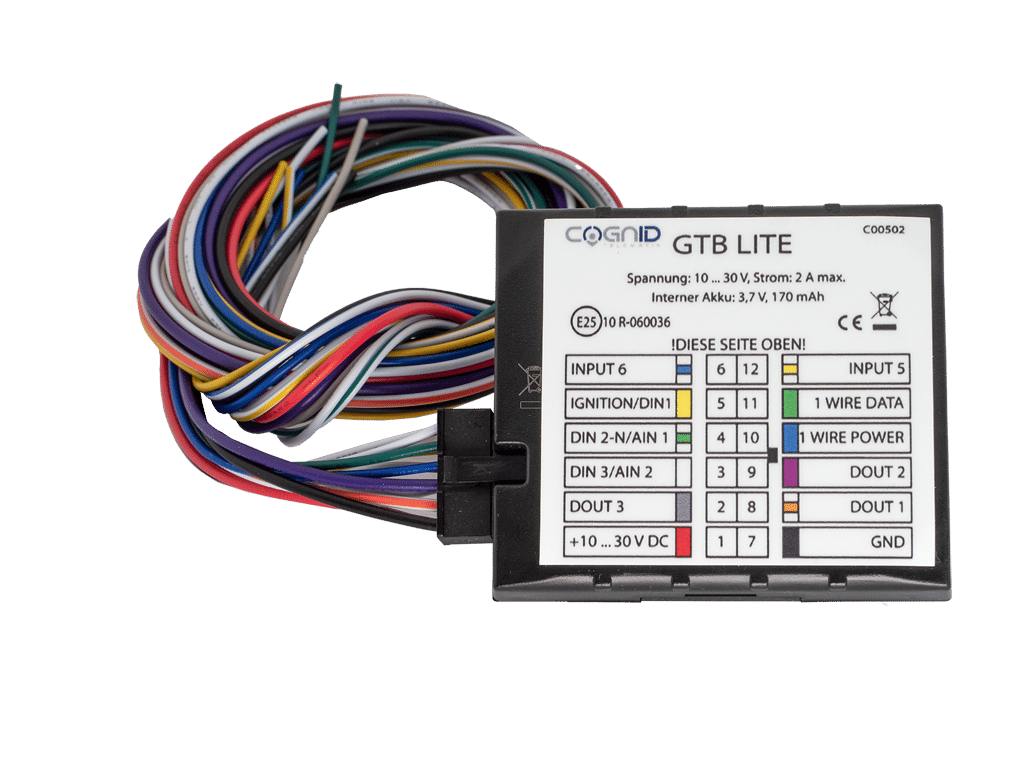 Compact and professxional
ideal for use in the automotive sector.

Tracking thanks to the online mode.


Remote query of the states / digital inputs





Supply voltage: 10 – 30V DC.

Current consumption: Minimum: 12 V< 2.69 mA (Ultra Deep Sleep), Nominal: 12 V< 32.1mA.

Battery: Built-in 170mAh Li-ion battery. Recharging via the supply voltage from the vehicle electrical system.

Motion Sensor: Integrated 3-axis acceleration sensor.

Integrated sensor technology: Integrated temperature and humidity sensor

Data transmission: LTE Cat1, UMTS, GSM.

Positioning: GNSS Receiver (GPS, Galileo, GLONASS, BeiDou, QZSS, AGPS).

Antennas: LTE / UMTS / GSM antenna internal, GNSS antenna internal.

Interfaces: 1 One-Wire, 1 CAN adapter, Bluetooth 4.0 LE

Maintenance interface: Micro USB 2.0

Housing dimensions: W x D x H = 65 mm x 56.6 mm x 20.6 mm.


Operating temperature: -40 °C to +85 °C, in battery mode -20 °C to +60 °C.

Certification: E-Mark for operation in road vehicles, declaration of conformity for use on industrial trucks, work platforms and construction machinery.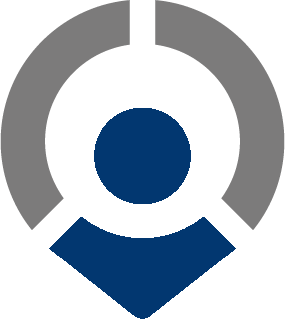 office
Rheinische Strasse 171
44147 Dortmund